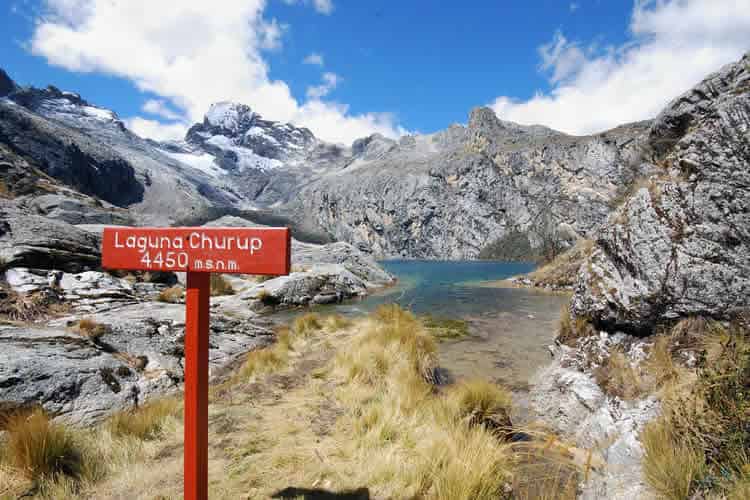 Laguna Churup Trekking
POSTED ON January 17, 2019 BY Cordillera Viajes
The Cordillera Blanca del Peru also has a series of attractive walks, of which the Laguna Churup trek is one of the most popular.
During the trip you will see an incredible amount of views, so it becomes an excellent option for those who wish to hike to the lagoon, the imposing mountains that surround the lake and its surreal colors create an unforgettable scene.
The walk begins with steep and uneven steps that go up for about 20 minutes, there are 2 shelters while climbing this part that you can stop and rest in the seats if necessary. The road is quite flat for about 15 minutes, and in some places the roads are rocky.
What to bring:
Good shoes, preferably hiking boots.
Hiking poles
Raincoat, a poncho and a bag cover in case the weather is not the best.
Sunglasses and sunscreen in case of sun.
Snacks and about two liters of water.
Pack some foods that give you energy.
Important data:
Acclimatization: It is recommended to be 1 day before in Huaraz.
Altitude: 4,450 masl
Distance: 5.8 km – 5 or 5 hours of round trip hike.
Location: Huaraz – Andes Mountains Peru.
Type of route: Round trip
Duration: 2 hours (Round trip transportation)
Departures: 7:00 am. Recommendable.
Suggested ages: Minimum 8 years / Maximum 65 years.
It is recommended to go with an experienced guide or hiker.
Difficulty of walking: medium to difficult.
Duration of the walk: 1 day.
Best season: May – September. This corresponds to the dry season and is also the coldest time of the year. It is possible to try this walk at any time of the year, but outside the dry season, it is more likely to rain and slippery roads and wet conditions make the walk less enjoyable. January to March are the wettest months.
Permits to Huascarán National Park: the travel agency must take care of the permit for you.