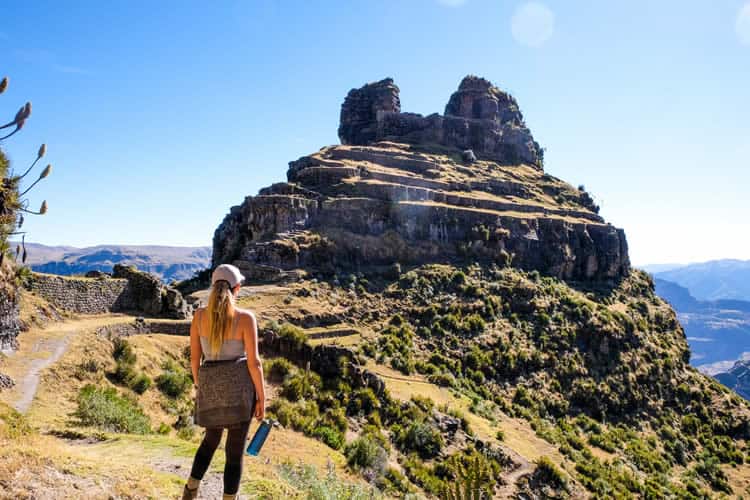 Top 9 best trekking routes in Peru
POSTED ON September 09, 2019 BY Cordillera Viajes
1.- The  Salkantay Mountain is located in Cordillera Vilcabamba in Peru
The snowy Salkantay is a beautiful place in the region of Cusco, It is about 75 km (46 miles) away and about 3000 m (10,000 feet) of altitude, it is a very arduous route, compared to other hiking options in Cusco region, these routes are designed for people with a moderate physical condition, during the trip it is advisable to bring hydrating snacks and water.
For Salkantay Trekking , before  to start to  plan your hiking destination you will need first check the  climatic weather  conditions, in Cusco there are two distinct seasons: the dry season that is from April to October and the driest months are June, July and August, ideal visiting season, The rainy season is from November to March, this  summer season it is mostly rainy days but its worth it everything becomes green and full of life.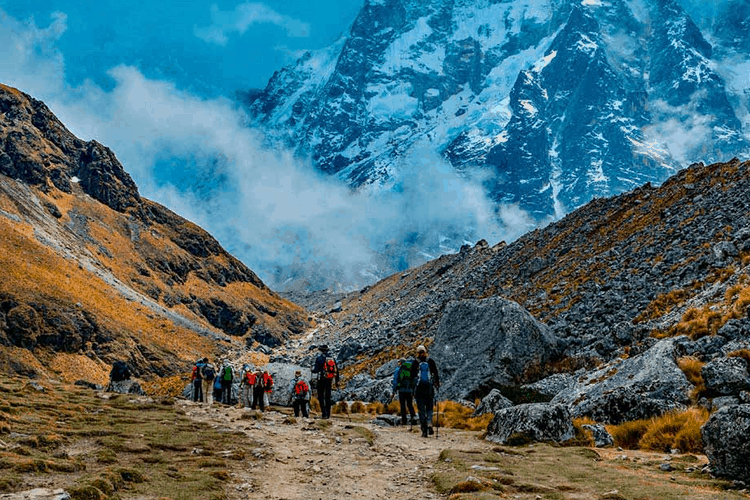 2.- Qhapaq Ñan (Inca Trail), route that takes us to Machupicchu.
The Inca Trail, is considered the best hiking destination in South America, 43 kilometers of routes along ancient Inca trails, which lead to the citadel of Machupicchu, these roads belong to a network called Qhapac Ñan (Inca Trail).
During the tour you can see mountains with rugged sections, areas with tropical forests, and see all the archaeological sites such as the ruins of Llactapata, the archaeological site of Runkuarakay, Saycamarca, Phuyupatamarca and Wiñaywayna.
There are two itineraries for the Inca trail 4 days and 3 nights, (43 kilometers) and 2 days and 1 night (12 kilometers). It is advisable to book it about 6 months in advance, since being very popular, the entrance tickets to Inca trail run out very easily.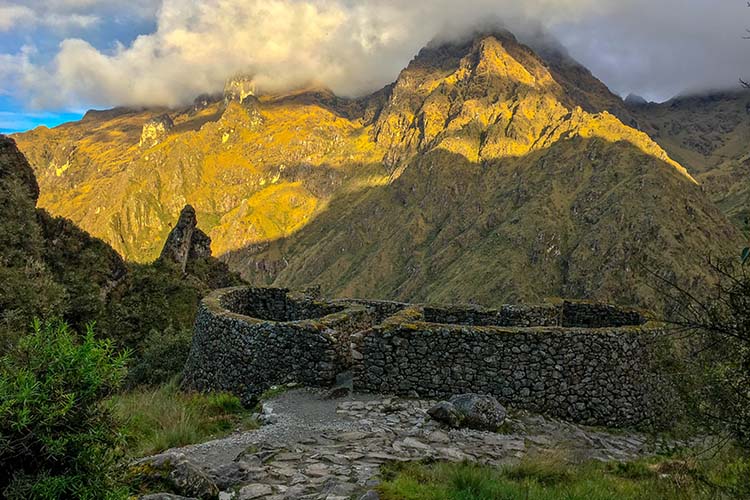 3. Lares trek
An alternative trek  that begins near the town of Lares, province of Urubamba in Cusco, during the walk you can see impressive landscapes, traditions, cultures, the trek is arduous, but it is compensated with the beautiful landscapes that can be appreciated, and being in contact with the local people, farmers, rustic houses, and especially llamas and alpacas.
There is a place where you can camp next to a lagoon at (3550 masl), near the villages. It is important to acclimatize to the altitude at least 1 day in the city of Cusco before embarking on this trek.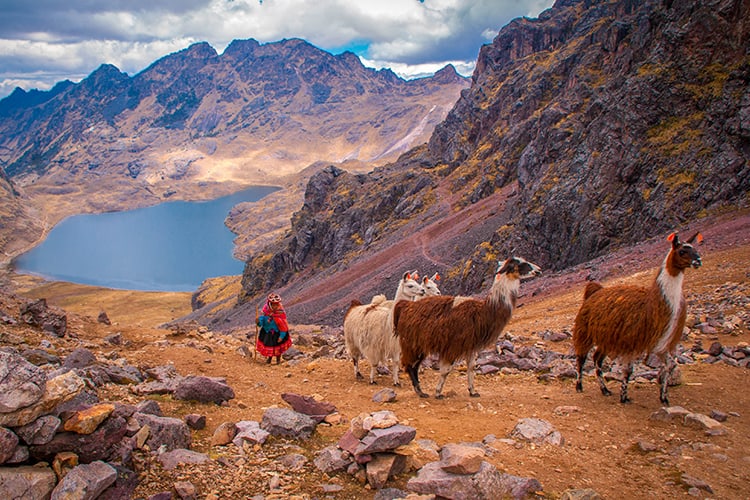 4. Huchuy qosqo
The name of Huchuy Qosqo comes from Quechua word: "HUCHUY" which means Small and "QOSQO" which refers to Cusco, located just less than 5 km from the city of Calca in the sacred valley of the Incas , located at 3,550 meters above sea level, this place has a peculiar architecture, buildings that have been built on a base of fine-finished stones and the upper floors are constructed of adobe, before arriving at Huchuy Qosqo, we can appreciate Inca constructions and staircases, as well as small doors with Inca decorations.
It is one of the shortest routes in Cusco, to reach the citadel of Machupicchu, with an average journey of 17 kilometers walked, route prepared for people who have few days to make walks in Cusco.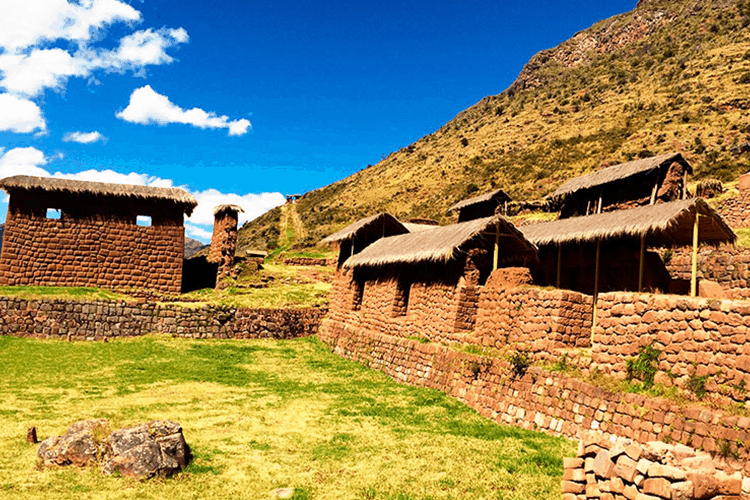 5. Choquequirao  'Cuna de oro'
The ruins of Choquequirao is located in the valley of Vilcabamba, located on top of the Apurimac Canyon at an altitude of 3,030 meters above sea level, the citadel is well preserved, has an area three times larger than Machupicchu, surrounded by a dense cloud forest in the Andes mountain range, the normal route is 3 nights and 4 days (round trip), but it is recommended to stay one more day, to fully appreciate the archaeological complex, knowing Choquequirao is not an easy task, it is only for people who enjoy the adventure, along with long walks.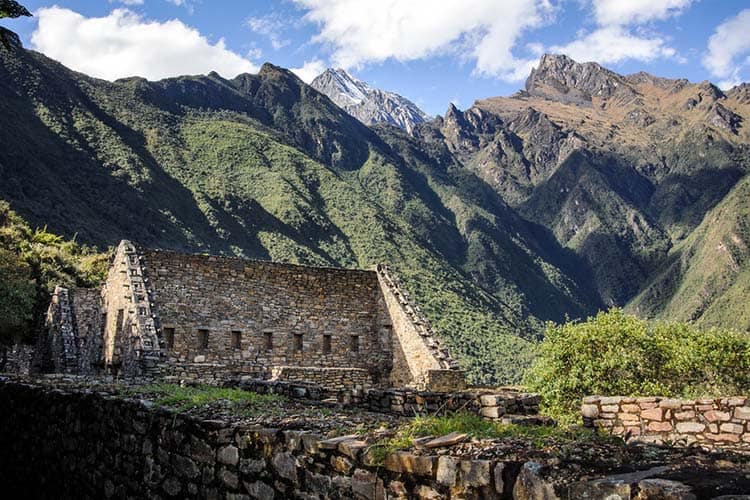 6.  Ausangate Snow Mountain
The snow of Ausangate, the highest mountain in the Vilcanota mountain range, about 6,400 meters above sea level, on this hike you can see the immaculate nature, many alpacas, this tour can be done in 5 days and 4 nights, three hours from the Cusco city, it is a very attractive place for people who practice adventure sports, thanks to its geography you can practice climbing and trekking, the climate of the area is cold, at night it reaches temperatures below 5 ° C , And by day it can be up to 20 ° C, and it has cold winds.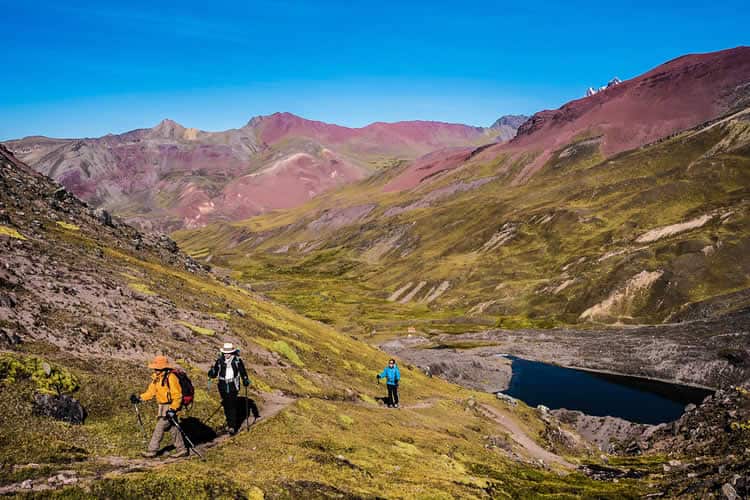 8. Rainbow Mountain
The mountain of the seven colors, also known as Vinicunca or rainbow, is located in the Cordillera del Vilcanota at 5.20 meters above sea level, in the Pitumarca district in Cusco, its slopes and summits are stained by intense stripes of fuchsia, turquoise, lavender and golden, the climb to the mountain of the 7 colors are between two or three hours (1 day), depending on your physical condition and photographic interest, the route is 8 kilometers, it is necessary to take precautions for altitude sickness, wear clothes winter coat, flexible but warm pants, trekking shoes, gloves and scarves, coca leaves, cream and sunglasses, trekking sticks, raincoat (poncho), cash, camera.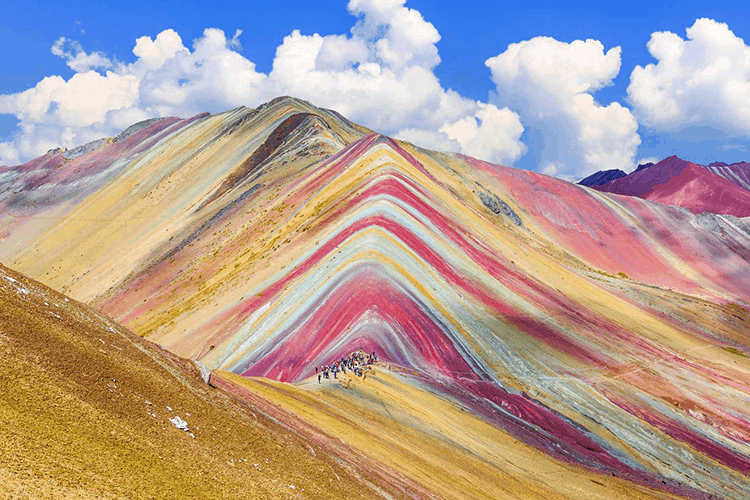 9. Huaraz
The city of Huaraz is in the department of Áncash, Peru, it is the center of regional trade and the axis of the tourist movement, many tourists come to Huaraz to climb the beautiful snowfalls of the white mountain range, and observe the famous turquoise lagoons such as: Laguna 69, Churup Lagoon, Parón Lagoon, Llaca Lagoon, which you can reach with long and beautiful walks through Andean routes, as well as see the famous Yuracyacu Falls or the Chavin de Huantar archaeological monuments.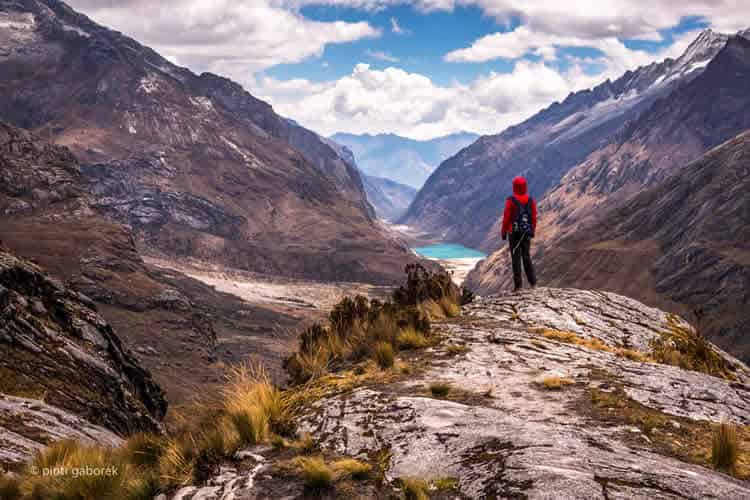 10. Waqrapukara
Waqrapukara comes from the Quechua voices: Waqra which means "horn" and Pukara which means "Fortress", at a height of 4,300 meters above sea level, the weather is frigid and changing, the walk lasts approximately 3 hours (7.5 kilometers) with medium difficulty,  It is difficult and the effort will be worth it, because when you arrive you will observe incredible landscape and architectural beauty, it is recommended to wear trekking shoes, warm clothes (jacket, gloves, caps or chullos, thick socks, warm pants), sunscreen, walking sticks Trekking, moisturizing drinks, snacks, nuts, pills for altitude sickness, daily departures