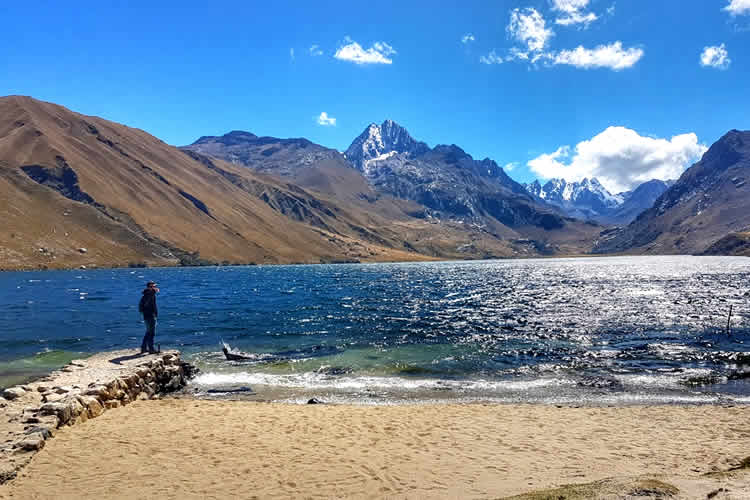 Querococha Lagoon and its beautiful landscapes
POSTED ON January 31, 2020 BY Cordillera Viajes
If you like to enjoy beautiful landscapes and eat delicious dishes, then Ancash is the ideal place. Its location surrounded by beautiful snowfall makes its visitors impressed with the image that presents them.
And there are few places that can boast of having that fortune. A great example of the beautiful landscapes it offers is the Querococha Lagoon, which is one of the 400 that the Callejon de Huaylas has.
It is a must-stop for all those who visit the apartment for the first time and also for those who simply want fresh air while traveling to the Chavín de Huántar Complex.
HOW TO GET?
This is located 57 kilometers southwest of Huaraz in the district of Cátac, in the province of Recuay, at an altitude of 3,980 m.a.s.l. The trip takes approximately 1 hour and you can do it by hiring a tour to the archaeological site of Chavín or by car.
WHAT TO DO?
This site is ideal for photography lovers since the lagoon is at the foot of a snowy mountain. This presents you with a wonderful scene, also close to it you can see the image of a 'map of Peru', which was created naturally.
DATA
Wear sunglasses, sunscreen, and a wide-brimmed hat.
Wear a windproof garment to protect against cold air currents.
Bring alcohol and cotton because sometimes height can affect some people.
Go in the morning, since during the afternoon it can rain and you will not be able to enjoy the visit.