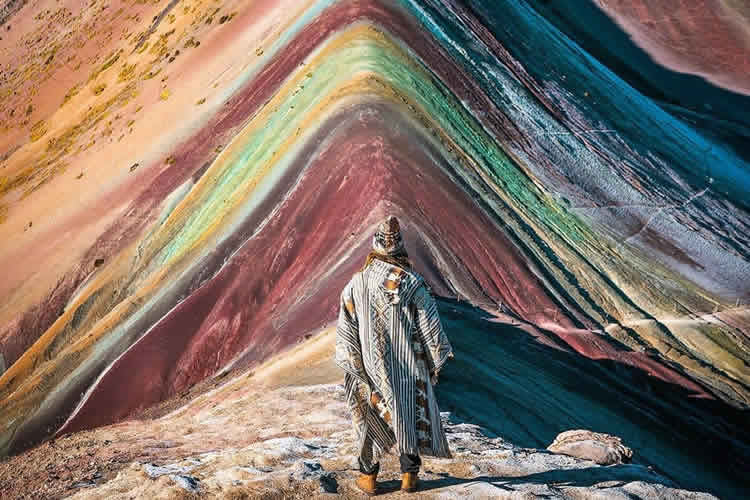 Vinicunca – The 7 Color Mountain of Cusco
POSTED ON January 24, 2020 BY Cordillera Viajes
In Cusco there is a mountain called Vinicunca, which many know as the Mountain of 7 Colors (in English Rainbow Mountain), is a natural tourist attraction, located in the region of Cusco – Peru.
Its name comes from the Quechua word Winicunca, which means narrow-necked mountains.
The Mountain of 7 Colors is located about 100 kilometers away from the city of Cusco. It has an altitude of around 5,200 meters above sea level.
General information:
Vinicunca has a mountainous formation dyed with various colors, the product of mineral combinations.
The main colors that we can observe are RED, PURPLE, GREEN, YELLOW, PINK, and other variations.
Location
The fiery Mountain of the 7 Colors is located in the region of Cusco, in the province of Canchis, in the town called Pitumarca.
Height
It has an altitude of about 5,200 meters above sea level.
In the following table, we have a comparison of altitudes with the different tourist attractions of Cusco.
Vinicunca Weather Condition
The climate in the Mountain of 7 Colors is changing, both in Cusco and throughout the mountains of Peru.
We have a complete article talking about this topic, as well as the best time to go to this place: The best time to go to the mountain of 7 colors.
If you do the tour (walk) from May to November, the weather at night will be freezing, below 0 degrees Celsius. (32º F)
And from December to April it will be colder and it will feel like -5 or -10 degrees Celsius, in these months the weather changes a lot, sometimes it snows and some days it rains with thunder and lightning that causes the closure of the route for tourist access.
Flora and fauna
We can observe llamas, alpacas, vicuñas, guanacos, viscachas, horses, sheep, and some species of birds.
There is not much vegetation in this area, since we are at high altitude, unlike other tourist sites such as Machu Picchu that is in the jungle.